Pennsylvania Retreat Discovers Biodynamic Vegetables
(Category: Genetics, Biodynamics (Stellar Enhanced), Genetic Engineering, Intelligent Design, Organic Tomatoes, Biodynamic Cherry Tomatoes,Organic, Heirloom , Tomato Seeds, Tomato Plants )
Tomatoes & Charles Darwin
L.A. Rotheraine & Charles Darwin
By Victoria Browne


Glendorn is a 1280-acre estate located near Bradford, PA. It is a privately held camp of the great Adirondack style and is owned by the Dorn Family who operate it as a luxury retreat. In addition to first class accommodations, it offers numerous activities such as fly- fishing, trap and skeet, swimming in a 60-ft. porcelain pool, biking, tennis and hiking on 17 miles of trails, and 41 wood-burning fireplaces to relax by.

Glendorn is a proud member of Relais & Chateaux which is a global association of 469 privately owned hotels and acclaimed restaurants of charm and prestige located in 51 countries around the world. Founded in France and headquartered in Paris, the association serves as an ambassador for the French "art de vivre" and holds to the highest culinary standards around the earth.



In June 2002 Biodynamic produce was introduced to Glendorn. Following a notice in the local press on the appointment of a new chef who was looking for local produce, L.A. Rotheraine, Evergreen Elm's master gardener contacted Executive Chef Diarmuid Murphy to arrange a meeting, view produce and explain the details of their growing process.

Evergreen Elm, Inc. is a local non- profit agency, which provides services in residential settings to persons who have mental challenges. The non-profit started a horticulture therapy program ( i.e. a large Biodynamic garden) many years ago as a vehicle for relaxation, learning new skills and enhancing the nutrition of participants and staff. L.A. spearheads the enterprise.

L.A., Mary Williams, Executive Director of Evergreen Elm, and Melissa McGuire, Project Director and chair of the agency's garden committee gave chef Diarmuid Murphy and sous chef Aaron Stover a tour of their garden, tempting them with nibbles of various fresh produce. The tour was concluded by offering the chefs a large salad bowl of marinated Biodynamic pear-plum tomatoes prepared by Evergreen Elm staff members Pat Wiley and Nancy Shaw.

As the group discussed interest in the produce and talked business they polished off the entire bowl of tomatoes! Diarmuid concluded the meeting by stating, "I'll take any of the vegetables Evergreen Elm is willing to share, I'll take your bamboo (which the gardeners had been trying diligently to kill over the past ten years) and I'll take your gardener too!"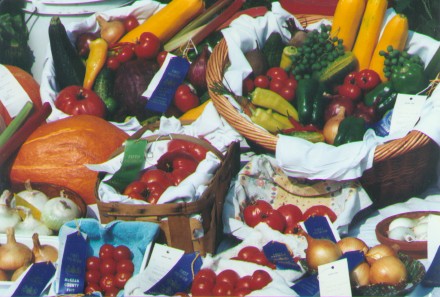 Evergreen Elm's Blue Ribbon Biodynamic Vegetables. For more information see our article "Winners Again!"
Both Diarmuid and Aaron said the Biodynamic tomato was the best tomato they had ever experienced, Stover preferring the cherry tomato. Murphy liked the pear plum and ratatouille tomatoes just as much as the cherry.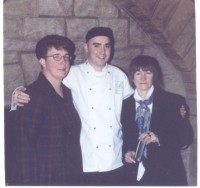 Over the course of last summer many of Glendorn's menus have featured exclusive use of Biodynamic produce and guests were questioned in order to receive accurate feedback. These visitors, from around the globe and accustomed to the finest cuisine, commented on the exquisite taste, color, and excellent quality of Glendorn's vegetable dishes. The cherry tomato received most remarks; its taste being aptly described as "mouthwatering." Another favorite, with a most impressionable flavor, was the purple pepper used in salads and as a garnish. Yellow zucchini appeared many times over the summer as an accompaniment to different main courses. Squash was created into a popular vegetarian dish. The chefs remarked on the vast difference between Biodynamic eggplants as opposed to regular eggplant.
In fact it was a wonderful Biodynamic eggplant dish that Diarmuid prepared for the gardeners to taste that reinforced what the gardeners already knew; Biodynamic vegetables are the most aromatic, flavor-filled and possibly the most nutritious fare on earth. Not having tasted it, Mary Williams, the Director of Evergreen Elm took home her slice of Diarmuid's eggplant for her spouse. The next evening, unbeknownst to Mary, her spouse presented her with his own version of a grilled Biodynamic eggplant. Said Mary, It was so delicious and unusual I could not fathom what vegetable it was from. When she was told it was Evergreen Elm's own eggplant she was flabbergasted! I had not eaten eggplant for many a year, because I thought it tasted like cardboard.
Diarmuid's experiences and reminiscences perhaps sum up the uniqueness of Biodynamic fare: Please understand, I have had the opportunity to serve and prepare cuisine in many places of distinction around the world. These places hold five star Michelin status. Their patrons have been exposed to and have been blessed with the finest cuisine in the world, yet until now I have never tasted such vegetables as these. I quote a Glendorn patron, who sat down to our jambalaya dish this fall and said, This is THE best meal I've ever had. The best meal he's ever eaten? The best how? I can't but speculate but his comments were a result of the melding of Master Gardener L. A. Rotheraine's efforts and Evergreen Elm's prot'g's and my culinary expertise!
Diarmuid continues, I look to the coming year and my goal, which is combining Biodynamic produce and my culinary expertise to raise the level of Glendorn's restaurant not to one of 500 but one of the top 300 restaurants in the world!
The overall experience from guest feedback would be considered a huge success, but most would be surprised that a small rural community such as Bradford has such an exciting program. Not everything it seems, is only obtainable in large cities, especially Biodynamic vegetables.
Plans for next year include Gourmet weekends with heavy emphasis on Biodynamic vegetables. Chef Murphy plans to invite L.A. Rotheraine to appear as a guest speaker at these weekends.
Thanks to Evergreen Elm, Glendorn has opened guests palates to new and exciting produce. We thank them for making this possible.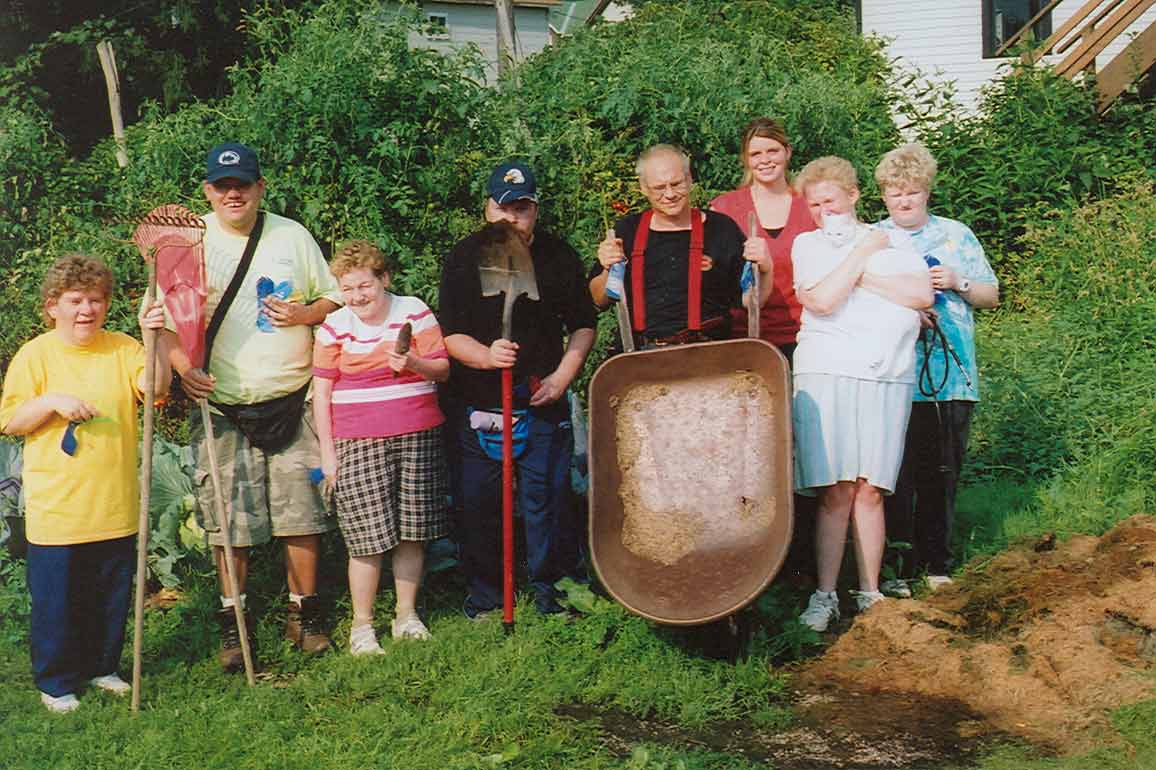 Bradford Journal Photo
Some members of Evergreen Elm's Biodynamic gardening team pose for us at their garden location in Bradford, PA on August 24th. The gardeners won big again in the August 2007 McKean County Fair competition. They won 24 first
place blue ribbons, one third place white and two fourth place yellow ribbons out of 29 entries during the fair. Their Master Gardener, L.A. Rotheraine attributed their success this year to teamwork, hard work, and the Biodynamic Field and Garden Spray. Of the 24 blues, says Rotheraine, the most important for all biodynamic and organic growers throughout the world is the first place taken in the cherry tomato competition. Our Selke Biodynamic Cherry Tomato has become the standard bearer against the genetic engineering and terminator seed companies. It cannot be duplicated by the technology these companies use. Only the biodynamic agricultural science as deployed by Evergreen Elm and our special method of producing tomato seeds can create this superior plant. One can picture all seeds as crystallized energy from different stars or groups of stars, each plant species an earthly replica of its heavenly source. It's important to remember, however, that the success of all our winning entries was assured through the use of the Biodynamic Field and Garden Spray and the unselfish efforts and dedication of Evergreen Elm's gardening team and their rigorous adherence to chemical free growing methods. Pictured from the left, holding their tools and ribbons are Jackie Wolfe, Robert Tubbs, Betty Bailey, Jim Oehler, Randy Johnson, Supervisor Brandi Buck, Lisa Williams holding Frankie the garden cat, and Patty Price.


---


Evergreen Elm Gardeners with a 12 foot tall sunflower!
Photo - The Bradford Era

---




Era photo by Francie Long
Rotheraine's Organic Tomatoes - rotheraine.com


L.A. Rotheraine (at top of plant), Randy Johnson (middle) and Brandi Buck (right) supervisor, look over the 10 1/2 foot organic cherry tomato plant. If there is no frost in the near future, the plant could reach 12 to 13 feet tall with over 2,000 tomatoes on it.

The plant was grown at Evergreen Elm's garden on Elm Street and is an open pollinated Selke Biodynamic, Organic Cherry Tomato Plant.

Evergreen Elm has the only seed strain in the world for this species of plant.

The plant was cared for by Evergreen Elm's gardeners, particularly Robert Tubbs, who was in charge of all the Selke Organic Cherry Tomato plants.
---
VICTORIA BROWNE is the Sales Manager at Glendorn
Copyright 2004 LA Rotheraine