Biodynamic, Organic Cherry Tomato Free Seed Give-Away
Challenge the Genetic Engineering Seed Companies
to Create a Plant Like This - They Can't!
Evergreen Elm's Biodynamic Cherry Tomato

Era photo by Alan Hancock
From left, biodynamic gardeners Jim Oehler, L.A. Rotheraine, standing on ladder, Jeff Van Scooter and Brandi Buck stand in front of a 10 foot tall cherry tomato plant on Wednesday afternoon at the Evergreen Elm garden on Elm Street. Rotheraine claims it is the strongest tomato plant on the Planet Earth. "With all the billions of dollars that the genetic engineering seed companies spend, they cannot come close to producing the unique seed that Evergreen Elm makes to create this plant," Rotheraine said. Evergreen Elm Executive Director Garry Pugrant said the agency has seeds available from the giant tomato plant. Donations would be accepted.
---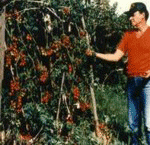 2000 Cherry Tomatoes From A Single Plant!
Watch this free 15 minute video to learn about biodynamics and see the spectacular results for yourself. Follow the directions to grow your own 12 ft. high cherry tomato plant.
Click Here
NOW an Opportunity to See this AmazingTomato
Grow in YOUR GARDEN.
Take Advantage of Our Free Seeds Offer!
We realize that it is difficult to imagine how a single seed can transform into a huge healthy tomato plant that can bear as many as 2,000 tomatoes. That's why we want you to See For Yourself.
Now, as a special offer, just send a self addressed stamped envelope to me to receive a FREE pack of Selke Biodynamic Cherry Tomato seeds- the same seed strain featured in this video. Just follow the instructions in this video to achieve similiar results.
Send your self addressed stamped envelope to:
Highlands Star Seed
PO Box 990
Bradford, PA 16701
For donations,
Please make checks payable to Evergreen Elm Garden Fund



Donations to the Evergreen Elm Garden Fund
Yes, it's true we are giving away free packets of seeds. However, for those who can, we would greatly appreciate a donation when you are ordering your seeds to help us continue the work of developing these superior seeds and getting the word out to others to help them learn about the healthy and natural way to grow the food we eat.
Why we need your help:
Since the inception of the garden we had been able to cover the cost out of the general operating budget. Recently the state informed us that the garden was not a billable or allowable expense, thus leaving us with the question, "How to keep this great program operating for those we serve, the staff and the community who benefit in so many ways from the garden?"
Our Board of Directors and individuals are asking for support from our friends in the community to help keep this vital program alive.

We greatly appreciate your consideration in supporting this vital program.
THANK YOU!
---
Donations to the Evergreen Elm Garden Fund can be sent to:
Evergreen Elm, Inc.
50 Main Street
Bradford, PA 16701
Please make checks payable to Evergreen Elm Garden Fund.
For more information Phone: 814-362-6853
---